Archive for the 'travel' Category

in amongst all the shopping and eating we found ourselves with a 'spare' day towards the end of our trip – and disneyland just a short train ride away. what to do? we went to disneyland of course!! we got rained on, we queued for ages, we walked our feet to the bone (no seriously, i got the worst mega-blister ever – i think i could see bone).
i was interested to compare tokyo disneyland to the original disneyland in california, and it was largely the same – but different. it was bizarro world disneyland, where just about everything has a slight twist (the haunted mansion takes on a whole new threatening tone when the voice over is in intelligible japanese)! one of the best 'twists' though was the 'small world' ride. the ride itself was the same, but the exterior and the 'load in' were different – might i go so far as to say… better? take a virtual tour through the queuing area and admire the mary blair-inspired murals that set the tone for 'the happiest cruise' that ever sailed…
getting lost in a foreign city has its benefits when it turns up little goldmines like raak. this itty bitty boutique was tucked away in the back streets of gion, kyoto – it would've been easy to miss, but once we'd found it, there were raak stores popping up on every corner! and just as well, because i was smitten!

raak was established in 1615 specializing in tenugui, traditional japanese facecloths. the range today covers face cloths, scarves, and furoshiki cloths – to wrap gifts, or fold into bags. their designs are spectacular, some more traditional and simple, and some bright, busy and contemporary!
the smallest soft, lightweight cotton cloths on display

did i mention i picked up some souvenirs? because i did. a lot.
just a little head scarf i picked up – to brighten my wintery days back home!
a contemporary chair design by raak
hydrangea cotton gauze scarf
rolling landscape panel
images taken from raak and my shamelessly extensive personal collection of raak products
as you would imagine, shopping in japan is BANANAS. the first day was really tough – we had two weeks ahead of us, but we were seeing so many amazing things already. would we make it home without exceeding baggage limits? would we go broke before we even bought dinner? as time went by we got a little more jaded, but it was still a shoppers paradise! sadly i was too, er, 'amazonian' to fit the shoes or clothing. perhaps for the best, financially speaking! but here are a few treasures that made it home with me…*
*not pictured: 900 pairs of socks. japan loves socks!


 swimmer/chocoholic tape, vintage stamps from 'pinups' in kitchijoji
flower push-pins and push-pin hooks!
i'm a big fan of buying fun but practical things while on holiday. i like to be able to use the things frequently, and each time i do, i get that little thrill i like to call "reverse buyers remorse".
cute memo pad and faux-marimekko letterset from kiddyland
picture puzzle dominoes
are these for me? or for my son? hmm… both. but mostly for me! don't worry, he got plenty of presents all to himself.
 cute stamp stickers! erasable rainbow pens! cram cream memo pad in my favorite design!
 i came to love these little face cloths really fast! because its so humid a little discreet blotting cloth is essential. and in typical japanese style, even the sweat rags are beautiful. i'm almost looking forward to a hot australian summer to use these.
false lashes and mary quant daisy hair clip
i almost passed out when i saw the mary quant store. i love mary quant and so to own one tiny little mary quant item is really exciting. and can a girl ever have enough falsies? no. so i bought about 12 or varying style. eep!! blame it on the ¥100 store!
scandi treasures from parco
i found a fab little corner of parco stocked with scandinavian treasures! i thought the elephant bank might help me save up for a trip back to tokyo soon. and the apple dish towel? practical AND chic!
tokyu hands was the most mind blowing place of all. i'd heard people reccomend it as a "department store that sells everything". in my mind "everything" meant carpet, clothes, mattresses, luggage.. y'know. everything. but apparently "everything" means E.V.E.R.Y.T.H.I.N.G. umbrellas, suitcases, wood, fake flowers.. and lots and lots of stuff for crafting, creating, and making with! what colored perspex rod would you like? did you need some bright green leather? hey weren't you just saying you were running low on silversmithing tools/flocked styrofoam balls/miniatures for your train set? yes. everything. my brain almost fell out and it was difficult to take in. on our first visit we experienced an aftershock, but i'm almost certain it was my mind being blown. so i bought a pom pom maker and some glittery plastic. because i'm pretty sure i'll need them sooner or later. australia doesn't have a great range of anything, if you want something you have to search online and sacrifice a kangaroo in hope of them shipping it to you. so this might not sound exciting to you americans and europeans, but it was like candyland to a supply starved australian! if i lived near a tokyu hands i would never ever ever stop making EVERYTHING.
furoshiki fabric
furoshiki is all about giftwrapping using beautiful fabric – but i'm thinking i might just giftwrap my head with this one!
fab fabric! it would be easy to blow tons of money on fabric in japan – but what am i going to do with it all? nuthin' that's what. so i only bought a couple of pieces that i know i'll put to good use. the fabric above is latex backed and is going to turn into a swim bag for my son.
handmade fabric bento
and lastly, an extra special little present for my son. play-sushi! he also got socks, some crazy bath salts that turned his bath chartreuse, some candies with hello kitty's face in them, and a totoro all of his own.
i can't wait to show you one more special purchase next week – in a post all of its own! ooh
if you haven't followed me on twitter for the last few weeks you might have missed the bit where i went to japan! after a week of catching up on work i'm finally ready to show you some photos from my fab two weeks in tokyo – and kyoto.
visiting tokyo was #4 on my thirty before 30 list, so in february i decided to make. it. happen! i invited my friend cintia to come with me and this is the condensed version of our adventures:
cute fire hydrant cover in shibuya
we had nine days in tokyo and five days in kyoto. in tokyo we spent the first few days shopping, hitting up the fabulous department stores in the shibuya area where we stayed, and then venturing out further afield to kitchijoji, nippori, daikanyama and uh tokyo disneyland. we explored so many adorable, fascinating stores, and the amazing ghibli museum – but none allowed photography, which is fair enough, but as such i don't have so many photos from the first few days!
'petit' in kichijoji
kichijoji was one of my favorite areas. cute streets full of cute shops – and this shop, petit, was my favorite. from the outside it looks kinda like a junky $1 store, but….
inside of 'petit'
and i suppose inside it also kinda looks like a junky $1 store, but bear with me.. you see the photo is out of focus because we were in a FRENZY of picking through all kinds of vintage pop cultural treasures.. it was like stepping into a time machine and finding all the fun japanese junk you had as a kid – or maybe just walking into a physical version of ebay: there was a shelf of smurf figures, vintage happy meal toys, sweet sanrio stationary from the 80s, blythe dolls, new-in-box barbies from the 80s. and the ceiling? why it was covered with bowed star wars figures, of course.
pilgrim vs. the giant ice cream 
we spent a day relaxing in yoyogi park. giant ice creams were the least fun thing we saw. not pictured: half assed capoeira guys, unrhythmic bongo players, unenthusiastic swing dancers, a blissed our cat in a tree and a very enthusiastic guy in a rubber horse mask. it was my favorite park ever.
harajuku kids…
…doing what harajuku kids do best: posing on a bridge before being moved on by the cops.
rawr! lion straw hat
even the really little kids in harajuku looked rad!! please all go and DIY one for your own kiddos.
waiting for the shinkansen bullet train
next: bullet train to kyoto!
df
in kyoto we stayed in a ryokan, slept on futons on the floor, ate traditional style breakfasts, and generally soaked in a more 'authentic' experience. also: soaked in a japanese bath! aaaaahhh heaven.
toji temple
kyoto was really interesting. we went to a flea market at a temple, and we went to a temple, and then another temple. did i mention temples?
ryozen kannon
this big buddha was the bigger of the two big buddha we saw. we also saw the daibutsu at todai-ji which was much more impressive than any of australia's big things.
beware the deer. no, seriously, BEWARE the deer.
a day trip to nara introduced us to a rare breed of dangerous (wo)man eating deer. they start with your stomach and seem to only want to injure old ladies and little girls.
maiko, apprentice geiko/geisha
it was amazing to see actual maiko and geiko (the kyoto term for geisha) walking through gion district in kyoto. i'm not sure how i feel about the tradition, but their commitment to their art form is impressive.
maiko hair accessories on display in a store
the golden pavillion, kinkakuji
kinkakuji was my favorite temple. it was perfect, surrounded by lush mossy gardens and all that greenery was a refreshing break from the heat.
melon sno-cone
did i mention it was hot? it was two sno-cones-a-day hot. the fan and the sweat cloth are two of the greatest inventions ever.
a hairy store fitting at opening ceremony
back to tokyo. back to shopping and taking naughty secret photos in shops!! shh, don't tell – but how would anyone believe me when i said i saw a hairy dog in a fashion store?!
ありがとうございます。
then it was back home, with bulging suitcases and blistered feet. stay tuned in the coming day for some more detailed tales of excitement and adventure!
june first?! JUNE FIRST?! what?!
ahem. has anyone seen the first half of my 2011? apparently its gone. that means i've been meaning to share these photos with you for six months. and so, quickly, before i embark on my adventure to japan i thought i'd tell you about my new favorite fascinating place in LA. MONA: the museum of neon art.
MONA was born in 1981, to neon artists richard jenkins and lili lakich, and the current collection is an amazing mix of contemporary neon art and vintage neon signage.
i read about the museum at some point prior to traveling, and it aroused my curiosity (as such KrazyKrap tends to do.. i'm not so good at visiting the tourist traps) but i wasn't entirely sure what to expect – aside from neon. what i found was a completely fascinating space filled with completely fascinating works! and the most fabulous part: the kiddo loved it because he was ALLOWED TO TOUCH! in a gallery! can you imagine?
the various artworks and vintage pieces are arranged around the spacious old setting (i'm both excited and sad they're moving to glendale – the current location in the falsely-enticing 'toy district' is crumbly and cool!) giving it a gallery-meets-junk-yard vibe that really encourages you to get close and appreciate it all.
from the vintage goodness…
… to the contemporary fun.
and did i mention the thrilling sound of the humming neon and zapping artworks? it creates a really exciting atmosphere! so if you're in LA, and you like some kooky tourism, duck in to the humming dimness of MONA and tell me what you think of it. next visit i'm hoping to catch one of their night tours of classic neon signs still in action.
here i am, back home in melbourne and sliding back into routine. was it all a wonderful dream? i do feel a bit like i fell down a rabbit hole and travelled through wonderland and then woke up under the same old tree. travel is so easy and fast now there's not much time to process it all. one day you're here, then you wake up and you're over there. and we maintained a cracking pace for the last three weeks so its not too surprising its a bit of a dream now. so want to see what we did? let the slide night begin… dips and cocktails at the ready!
we step off the plane in los angeles. let's pretend i was fresh faced and effortlessly chic. we grab luggage and went directly to delicious hotel and checked in to delicious room. ordered delicious breakfast. watched h.r pufnstuf and lidsville. took a delicious nap. oops… there goes day one! the next few days were spent lazily cruising the fairfax farmers market and stimulating the US economy at the beverly centre.
i was very happy to revisit shine gallery and buy a psychedelic butterfly mobile. oh, when i die i am so haunting that place.
we moved on to anaheim and did the disney thing. this time we even ventured into disney's california adventure and got to see the world from a bug's perspective. we also loved the world of color fountain/laser/light show. while we disney'd my boyfriend did his rock'n'roll thing at the NAMM show.
we saw new york… legoland style and now i know what lego left outside for 10 years looks like. perhaps i'm being harsh, but after disneyland legoland was like plastic hobo land. some of the attractions/rides were quite nifty and they had giant concrete spheres in their parking lot which was strange considering you can't get lego spheres.
escape from anaheim: we tried to leave, but they cancelled our flight! santa ana airport has airplanes that aren't capable of dealing with san francisco fog apparently, so we teamed up with fellow disgruntled passengers and made the trek to LAX in a shuttle. its a testament to how nice americans are that those travel lemons were turned into friendly, calming lemonade. a stressful situation turned into an opportunity to – as cheesy as it sounds – make some temporary friends. i like temporary friends and i liked arriving san francisco only two hours behind schedule. i also liked checking into our super friendly hotel and being greeted with cups of warm apple cider. but no rest for the wicked…
next stop alt summit conference in salt lake city! i'm going to do a whole thing about this because it is just too hard to condense it into a glib paragraph. and right now i'm only capable of glib paragraphs. here is me, relaxing at the end of the first day, wearing my favorite dress. the bigger the lapels, the more favorite.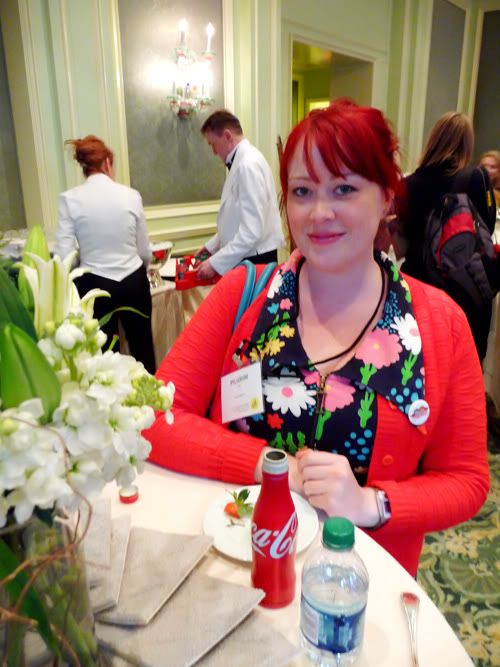 image from modern kiddo
i was quite excited at the prospect of being in a place that had snow, but it was "warm". i asked my driver form the airport if there was going to be snow and he said "not that i know of" like it was the middle of july and i was an insane person for asking.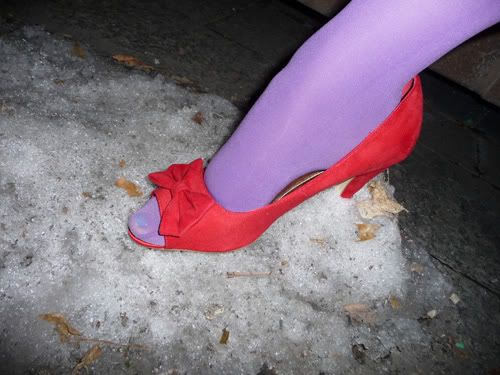 image from modern kiddo
so i had to make do with a dirty old pile of ice. have you ever seen a sadder, dirtier pile of ice in your life?! lucky i was there to bring some glamour into its final days.
but then there was thrifting madness with the modern kiddo ladies alix and dottie!
alix lost her mind to a case of THRIFT MADNESS, or perhaps it was just a case for record singles. and then there was snow!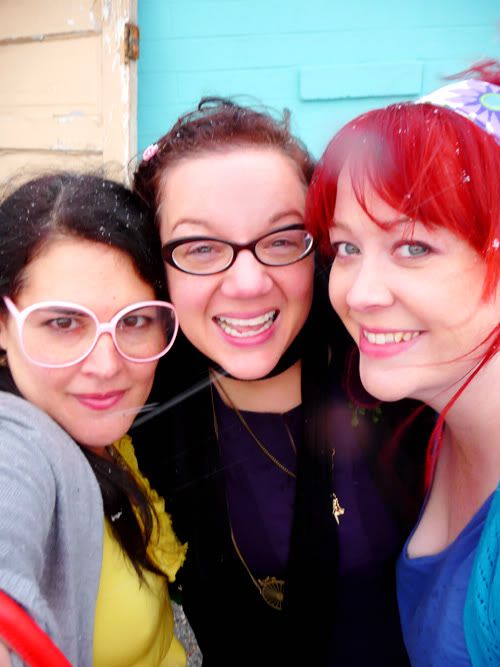 image from modern kiddo
alix, dottie, and myself cavorted in the snowflakes. FYI: snowflake cavorting in a t-shirt and cardigan will get you quite the chest cough. i speak from experience. hack, hack, cough. i lost my mind as soon as those flakes fell.
and just like that, alt was over. i was back with my little family, hangin' in san francisco and stumbling around fisherman's wharf with a fever. FYI 2.0: taffy will not cure a fever. drugs and sleeping do…
…and some gentle retail therapy the following day will help as well. it's ok go towards the light. i went towards the light and found an awesome shop full of cute japanese papergoods, just as i imagine there will be when i ultimately pass away.
an extra suitcase later and we were back in the sky heading for los angeles. good bye san francisco, i love you most of all.
time for the world's best BLT at at the world's best eatery: mel's diner. one lemonade and a side of coleslaw too, thanks.
a visit to the museum of neon art, and the museum of jurassic technology (not pictured).
and get a load of the weirdos we shared our flight home with! last year we unwittingly started a new tradition: stocking up on blind box toys at kidrobot to open on the flight home. its a good way of making the holiday's end a bit less sad and it is also a good way to distract small hands during the parts of the flight were there are no ipods etc.
and we're home again. passed (out) by immigration. phew!
oh! i miss being on my californian adventure! not just the room service and the whole 'holiday' thing, but just being in amazing places like san francisco. i could quite easily just move myself into one of those brain-meltingly expensive pretty doll-houses and live happily ever after. who knows, maybe i could even learn to like sourdough bread? it'll be tough, but i bet i could do it.
while in san francisco i got to meet up with the unspeakably gorgeous alex from
strawberry lemonade
, who along with her (also unspeakably gorgeous) family gave us a v.i.p-extra-special-insider's tour of their lovely city. the first important thing to note is just how cute we looked:
alex, and pilgrim – photo by mr alex
the second thing to note is just how cute we look in a photo booth together. see, alex is so cute the camera couldn't take it all in, and she looks a bit blurry. i promise, she's not blurry in real life: she just can't be captured on film. too much awesome.
after being picked up from our hotel, we were whisked away in the 'strawberry-lemonade-mobile' to the amazing
musee mechanique
at pier 45, fisherman's wharf. swoon. i think i could've spent weeks in musee mechanique. it is a huge private collection of coin operated amusements dating from the 1800s to the 1980s. most of the amusements only cost 25¢, so you can spend a little money but have a lot of fun. there are tasteful antique music players, mutoscopes (early moving picture displays) and fortune telling machines. and then there were the morbid and macabre attractions such as
the drunkard's dream
, the various
simulated execution dioramas
, and the ominously titled
'inquest'
(two bisons investigate a dead body. hilarity does not ensue. doesn't that sound like the start of
the worst
joke ever)? here is a sampling of the treasures on display:
beautiful carved french kinetoscope casing
detail from the casing of a fortune telling machine
i love that the 'h' is in a red circle in this palmistry machine. it also featured an amazing chrome wing motif at the top but my camera missed it!
too busy swooning over that 'magic' script i didn't notice what this was! oy, design geek, much?
the oldest attraction at the musee, a skipping girl zoetrope
detail from a miniature fairground
detail from a 'weight & fortune' scale (yeah, that's a "thing")
the opium den, featuring shivering addicts, pop up skeletons, lurking dragons etc
and finally, a shot of color! courtesy of a claw machine full of gumballs.
it was so great hanging out with alex and family, and we were so grateful to be given such super special treatment. it makes traveling so much richer when you have a local to show you around and our impression of san francisco is that its a swell town full of gorgeous people!
if you enjoyed seeing these pictures, why not take a look at the whole set on
my flickr photostream
. you're welcome to add me as a contact if you're on flickr too.
i did it! i survived disneyland, just me and the three year old son: mano-a-mano, us vs. the mouse. and you know what? it was a blast!
before leaving for the USA i read up on disneyland. i couldn't get my head around it. i knew it was big. people were telling me to spend multiple days there. i read a guide book that suggested dressing your family in a uniform, preparing trail mix and water flasks, building up foot callouses over a 6 week walking regiment. what?! this is meant to be "the happiest place on earth" and they were making it sound like a nightmare vacation even for the grizwalds. so i did what i do anytime i get overwhelmed, i threw caution to the wind and just showed up.
i've never been into the disney thing, i'm not against any of it, but i got spoiled early on, being taken to animation festivals with the kind of quirky stuff that fired my imagination. the little mermaid left me unsatisfied when she didn't end up in some fritz the cat-like escapades. however, something happened when i walked through the disneyland gates. firstly i welled up a bit and got kinda teary at how incredible it was that
i
was at disneyland. i thought of little cynical child pilgrim, repeatedly renting a VHS tape about disneyland just to see the bit about the haunted mansion but just assuming i'd never get to go anywhere like that. its overwhelming, and i think it would be hard not to get into the spirit of the place.
pretty pretzels in fantasyland
what i loved was the absolute commitment to everything. each 'land' is entirely unto itself and its hard to believe that the fun and cheesy 'futurism' of tomorrowland is just a short walk from the fairytale prettiness of fantasyland. i love that everything down to the rubbish bins and food carts are in theme with land they're in. everything was so clean and well maintained, i even felt like pristine condition extended to visitors' manners!
fab red vinyl wall in one of the refreshment shops
one of many vintage attraction posters, underneath main street station
we had loads of fun and spent two full days there, and i got to go back for one evening on my own. what did we do? well, given i was with a three year old, it was mostly very tame rides:
scene from the jungle cruise
lanterns and leaves around the mad hatter's tea party
in the tiki tiki tiki tiki tiki room!
it's a small world, exterior
its a small world
was amazing. the first impression is breathtaking: when you 'round the corner to be met with the great white and gold facade, with spires and minarettes, and the ticking clock tower, its a bit like wandering into a full sized toy town.
it's a small world, by night
…and at night, its even
more
spectacular! you can see in the pictures that there are christmas wreaths and swags of baubles up. the ride was a christmas version, with the standard 'its a small world song' mixed with jingle bells and deck the halls.
inside it's a small world
when i returned on my own for the evening i rode on:
the fireworks display was really charming, and was a tribute to disneyland's iconic rides and characters. i was so glad i could go back to see it, and really pleased i didn't have to miss out on the 'scarier' rides i couldn't take the kid on. and just in case you were wondering if
all
species enjoy disneyland…
… some turkeys are big fans of disneyland too!
ps: 100th post! thanks to everyone for all your comments and patronage. here's to 100×100 more!
hello! no, i didn't fall off the edge of california, i am alive and back in my own home. i survived the arduous flight by amusing myself with blind-box toys and i made it through australia's passport control and customs inspection by looking like i was on the verge of nervous break-down. anyone would think they
don't
want you coming into australia! but hey, where did i go?!
i got food poisoning at our hotel in anaheim and it threw me (and the contents of my stomach) off course for a bit. in retrospect its pretty funny that after days and days of eating junk food i ordered a steak and steamed vegetables to get some of that "nutrition" i've heard so much about and
that
was what made me sick. also, sharing a computer with a superstar blogger during a convention that may as well be his 'woodstock' means not so much time for anything but watching from the sidelines. also, my dog ate my homework and i lost the thing, and my great great aunt-in-law died and so thats why i've been blog AWOL and i'm sorry, and i promise i'll do better next time! haha
but i'm back, baby! dispatches from disney to follow…